 2021 Nebraska Czech-Slovak Queen
The Other 2021 Nebraska Czech-Slovak Queen Contestants
Elizabeth Ciaccio, representing the Nebraska Czechs of Butler County, will be modeling an Americanized kroj that is borrowed and performing a vocal solo of Ludmila Svata Mila in the 2021 pageant. When asked why her Czech or Slovak heritage is important to her she said "My heritage is so important to me because of the strong family values that are a part of the culture that I hope to pass on to my children someday. The more I learn about my heritage, the more I appreciate the strong Catholic faith that was passed down from our ancestors and the work ethic that they shared as hardworking farmers both in the old country and in America."
Alexandria Vavra, representing the Nebraska Czechs of Clarkson, will be modeling an Americanized kroj that is designed by self, made with assistance, and performing a vocal solo of A Prayer for Marta in the 2021 pageant. When asked why her Czech or Slovak heritage is important to her she said "My heritage is important to me because I feel our heritage is the glue that binds us together as people. I value my heritage so I can pass it down to my children with a little bit of my ancestors attached to it. I feel my heritage has made me become the person I am today."
Nicole Buresh, representing the Nebraska Czechs of Dwight, will be modeling an Americanized kroj that is purchased and performing a pom dance routine to a Czech song in the 2021 pageant. When asked why her Czech or Slovak heritage is important to her she said "I loved while growing up and getting introduced to my heritage and getting to know the food and the special dancing. I think heritage is very important in the fact of making sure it keeps getting passed down from one generation to the next. MY generation might not celebrate or do everything that the generations before us did in remembrance of our heritage but educating the younger generations will keep the history of our heritage going."
Kaelin Dickey, representing the Nebraska Czechs of Lincoln, will be modeling an Americanized kroj that is designed by self, made with assistance, and performing an accordion solo of The Blue Skirt Waltz in the 2021 pageant. When asked why her Czech or Slovak heritage is important to her, she said "My heritage is important to me because it is part of my identity. I would not be who I am today without the Czech culture. It is important for me to learn about my ancestors and heritage so I am able to pass down traditions to my younger siblings and future children."
​​ Dominika Jedinak
​​2021 Miss Nebraska Czech-Slovak Runner up
​Dominika also won the Authentic Kroj award.
​​Dominika Jedinak, representing the Omaha Czech Slovak Cultural Club, will be modeling an Authentic kroj that is purchased and reciting a Slovak poem, The Village of Vyšný Kubin in the 2021 pageant. When asked why her Czech or Slovak heritage is important to her she said "When I was small, I learned Slovak before I learned English. Although it saddens me today, there was a time in my life where I was embarrassed to speak around the other children. I had a wonderful teacher who taught me that being bilingual made me cool, not weird. Since then, I have embraced my Slovak culture and have made it my goal to preserve the language and traditions just like my parents did when they had me."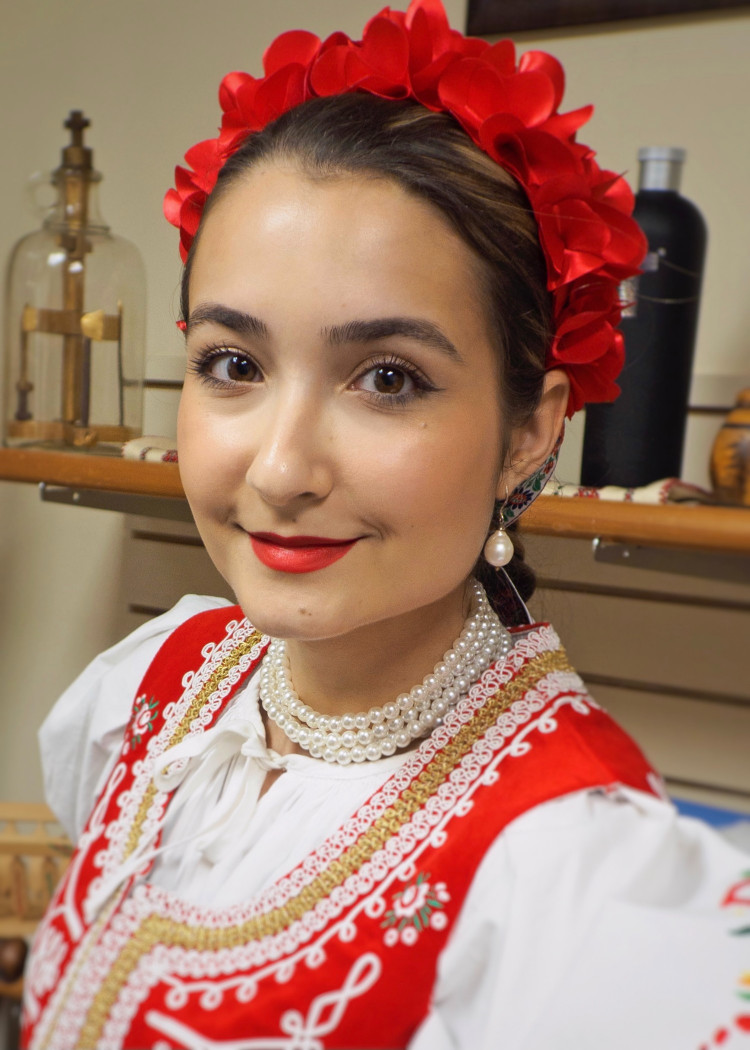 ​ Cecilia Minchow
​​2021 Miss Nebraska Czech-Slovak
​
​Cecilia also won Talent, Americanized Kroj, Oratory, Private Interview, Heritage Essay, Miss Congeniality.
​
​
Cecilia Minchow, representing the Nebraska Czechs of Prague, will be modeling an Americanized kroj that is designed by self, made with assistance, and performing a vocal solo of The White Handkerchief Polka in the 2021 pageant. When asked why her Czech or Slovak heritage is important to her she said "My Czech heritage is important to me because of the connections. Heritage connects us to past generations, creating a learning atmosphere encompassing current and future generations. In a similar manner, heritage connects us to future generations as the one who was once the student becomes the teacher. We are blessed with the responsibility to pass on what we have learned, allowing the connection to continue and the authenticity of the culture to live past ourselves."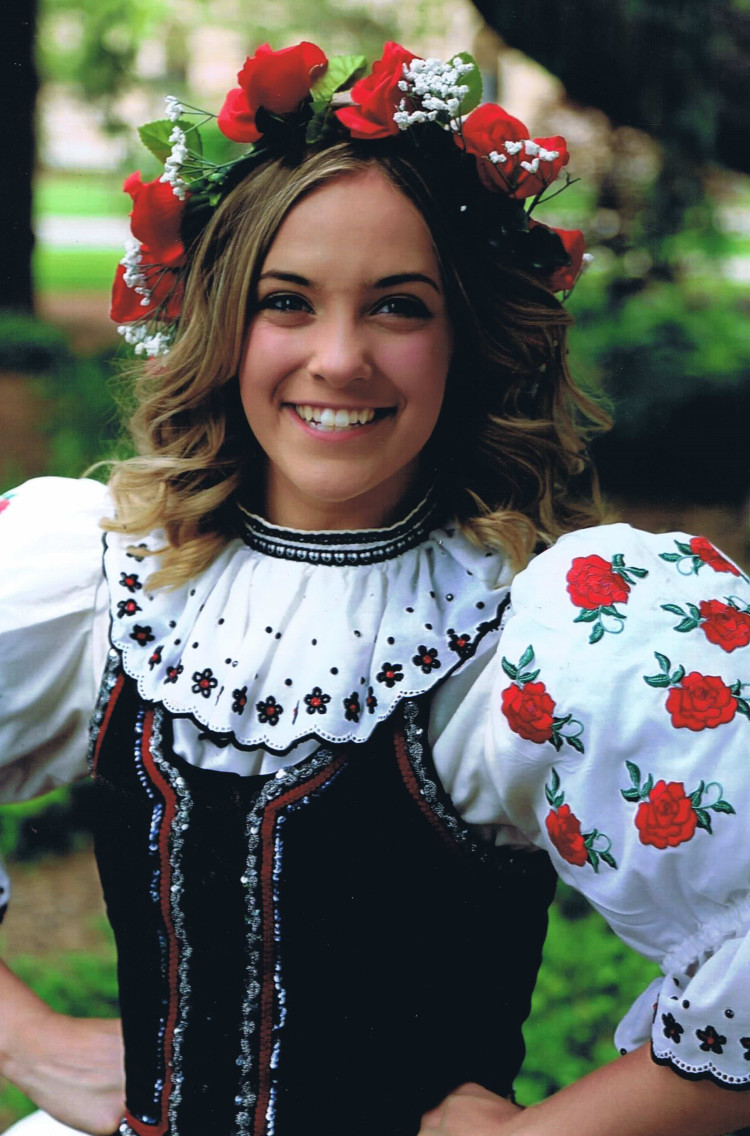 Cassidy Kowalski, representing the Nebraska Czechs of Wilber, will be modeling a Americanized kroj that is designed by self, made with assistance, and performing a accordion solo of Apples, Peaches, Pumpkin Pie in the 2021 pageant. When asked why her Czech or Slovak heritage is important to her she said "The Czech heritage is important to me because my mother is 100% Czech and that would make me 50% Czech. My mother's side of the family today still follows some Czech heritage traditions. My grandpa can speak Czech and English. He is sometimes trying to teach me. I really enjoy polka music and learning different dances. I love the Czech food like kolaces, pork, and kraut."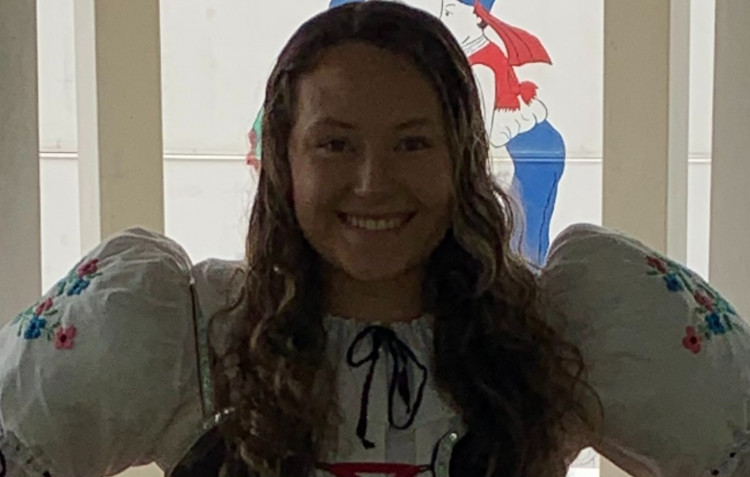 Alisha Vavra, representing the Nebraska Czechs of York, will be modeling an Americanized kroj that is self made with assistance and performing a flute solo of 3 short folk songs in the 2021 pageant. When asked why her Czech or Slovak heritage is important to her she said "My heritage is important to me because I love to learn about my ancestors and hear the stories about them and how they came over here from their home countries. It is also important to me because it is a part of who I am."
____________________________________________________________