The Nebraska Czechs of York was the 16th chapter to join the Nebraska Czechs Inc. and are located in York, Nebraska.

For more information visit their website at: www.nebraskaczechsofyork.org​​


​​They are the proud sponsor of 4 Miss Nebraska Czech-Slovak queens:
2004 Natasha (Florian) Vavra
(2005 Miss Czech-Slovak USA 2nd Runner Up)
2006 Michelle Wiedel
(2007 Miss Czech-Slovak USA)
2007 Shandra Korbelik (Best Authentic Kroj winner at 2008 Miss Czech-Slovak US pageant)
2012 Danielle Patzel
Danielle Patzel
2012 Miss Nebraska Czech-Slovak Queen
On August 13, 2016 miss York Czech-Slovak Queen Haley Ringenberg updated the York Czech club at their annual York Czech Fest kickoff meeting on her activities as the Miss York Czech-Slovak queen. Included among her activities was participating in the National Czech-Slovak pageant in Wilber, Nebraska on August 7,2016. Haley is from Johnson Lake, Nebraska. She is attending the university of Nebraska majoring in fashion merchandising.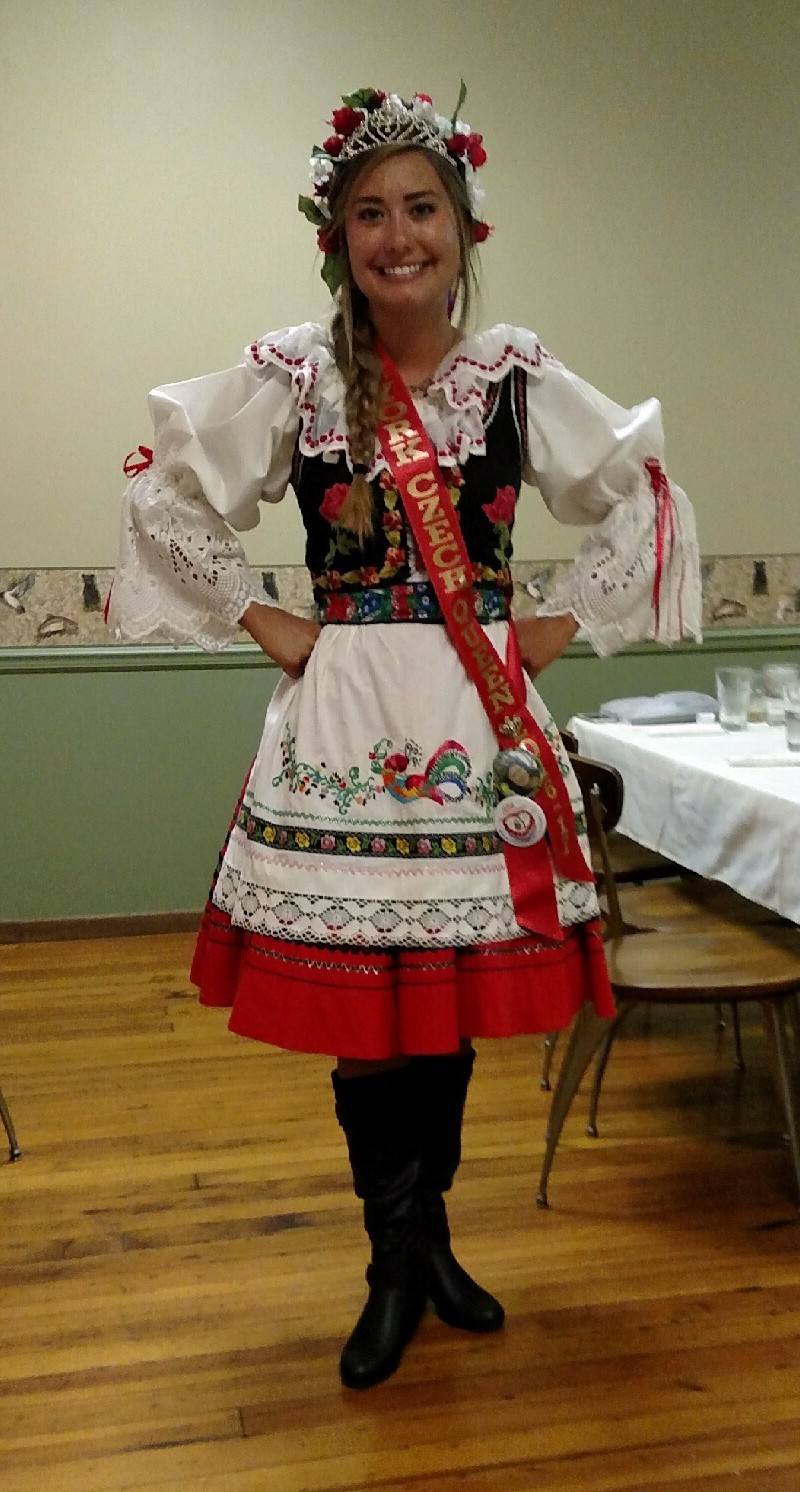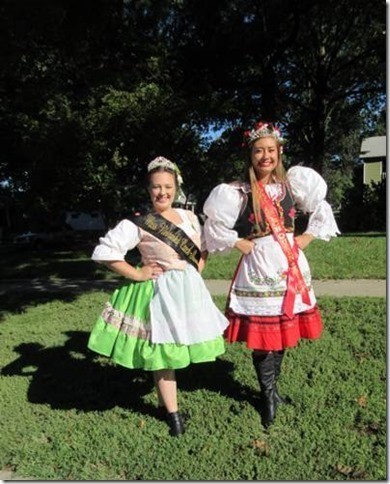 NE State Czech/Slovak Queen Miranda Zitek York Czech Queen Haley Ringenberg participated in the York parade entry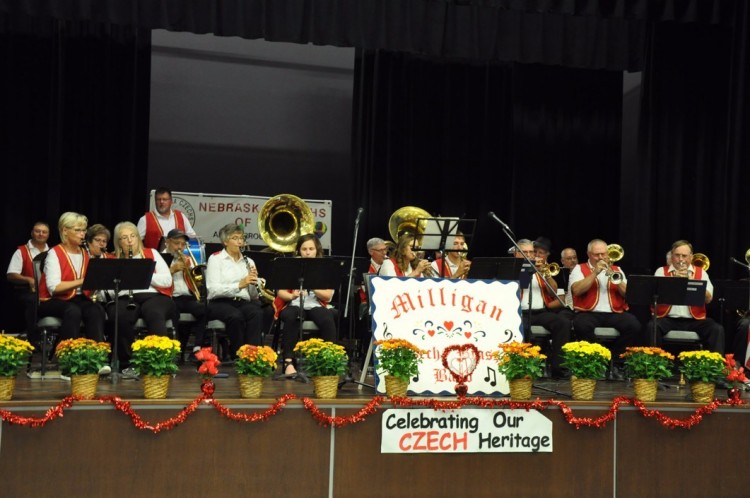 York Czechfest was fun for all

Everyone was Czech for a Day at the 13th Annual York Czechfest on Oct. 15, 2017 at the York, Nebraska Holthus Convention Center. There were over 800 people attending this largest one day Czech event in Nebraska.

The day started at 9:30 a.m. with coffee and kolac. There were 13 different flavors to choose from for this favorite Czech pastry.

The Grand Ballroom opened at 10 a.m. with the sounds of nineteen musicians at the Accordion Jam. Brad Husak was the band leader.

The vendors had beautiful Czech glass, garnet jewelry, crafts, bakery items and a variety of other items. The Silent Auction had many items with the proceeds from this helping to cover the costs of this Czech event.

One of the highlights of the day was the pork loin dinner served with sauerkraut, potato dumplings, and rye bread, garnished with an apple slice. The York Czech members made over 1,000 potato dumplings for this meal. Brian Tomes from Hunter's Lounge in Waco was the caterer.

The opening Ceremony was hosted by nine different Queens from around Nebraska. Madeline Hecker, Miss Czech-Slovak Queen U.S. 2017-18 traveled from Prague, OK to represent the Czech heritage of the entire United States. Several Queens presented their talents. Conner Kohout, age 11 from Milford played the Praha Polka and Apples, Peaches, Pumpkin Pie on his button accordion. York Queen Leahh Anderson and York's Princess Anniston Peterson helped fill out the royalty in attendance.

Piano and Button accordion lessons were offered for several hours by Don Osentowski and Clark Reinert and Dr. Mila Saskova-Pierce presented a free Czech Language Class.

All the kids were busy making puppets which are truly a Czech tradition. They also learned more about their Czech heritage through coloring sheets and posters. Judy Andrews presented this awesome activity for kids of all ages.

The main event of the day was the Milligan Czech Brass Band from Milligan, Nebraska. This band was started in 1961. The Band consisted of 24 members with instrumentation of trumpets, baritones, alto horns, trombones, bass horns, clarinets, saxophones and of course drums playing traditional brass band music along with several vocalists.

The 14th Annual York Czechfest will be on Sunday, October 21, 2018 at the York, Nebraska Holthus Convention Center. Thanks to Czechfest Chairman Dave Vavra and all the other York Czech Club members plus all the other "Czech for a Day" volunteers.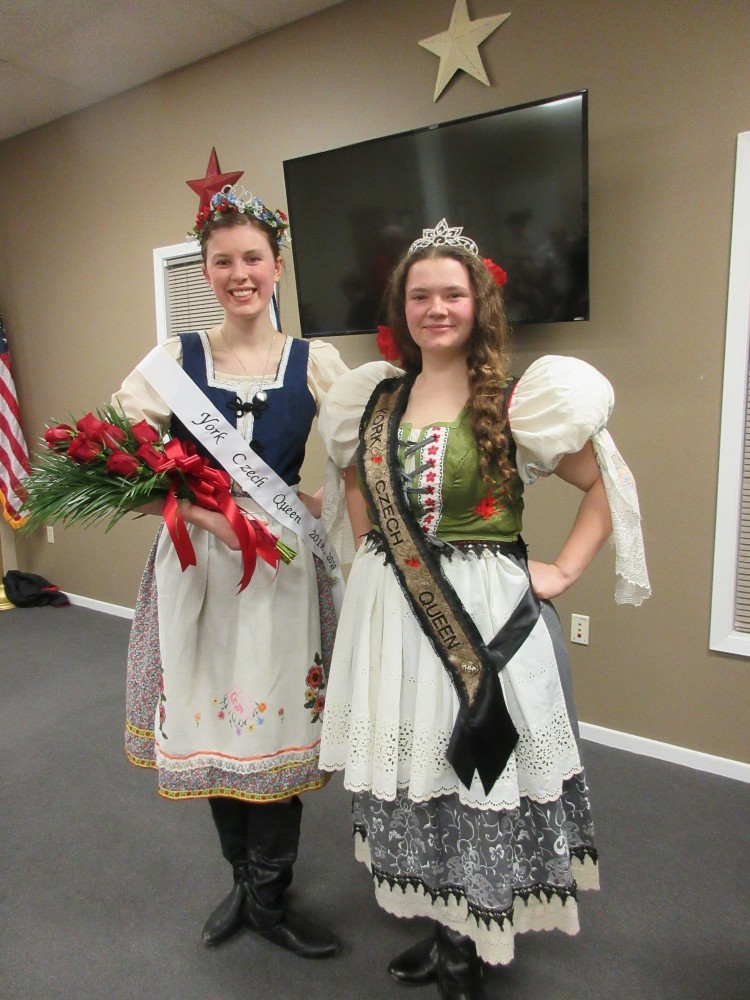 Article from York paper,
​Steve Moseley.

On March 15th, Leahh Anderson, the 2017 York Czech Queen passed her sash and crown along to Jessie Poskochil, left, who will represent the area's Czech community for the coming year. Jessie Poskochil, a UNL senior, Bennet native and Palmyra High School graduate shared her talent with the York's Czechs at her Coronation. Queen Poskochil will represent the York Czechs at the Miss Nebraska Czech-Slovak Queen Pageant on June 23 at the Clarkson 56th Annual Czech Festival.